Nordan Marine is able to supply service and repair to three business areas, Marine, offshore and industry field. We provide full range of services to Deepwell pump, Booster pump, Ballast pump and Safety Relief Valve for Gas Carriers such as LNG, LPG and LEG tankers, Chemical tankers and product tankers within marine and offshore industries; and for offshore platform, drill ships, production test ships, FPSOs (Floating production storage and offloading) etc. for offshore industry.
In addition, Nordan Marine Service team provides also services of calibration of onboard instrument, and cooling compressor services. Beside, in our supplementary area- Industry, we service and repair also centrifugal pump which are used in industrial pumping systems.
After our service engineer has identified the condition of the pumps or safety valves, a detailed service report which contains the description of the work executed, the condition of the pumps and the safety valves, and the recommendation for maintenance will always be delivered.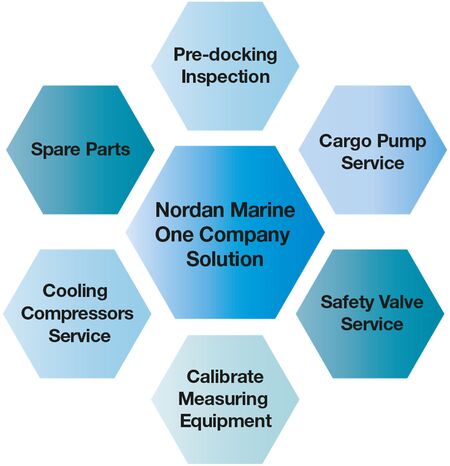 Nordan Marine Service Team offers the following:
Pre-docking inspection of complete cargo handling system


Cargo Deep Well Pumps


Safety Relief Valves


Booster Pumps


Cooling Compressors


Calibration of Tank Measuring Equipment


Laser alignment of i.e. el-motors and cooling compressors




We supply services and spares for the following main brands


Thune Eureka


Desmi


David Brown


Leser


Sempell


Heinrichs


Trimod Besta

Kværner Eureka


Worthington


Thermo Mechanical


Luceat


Hindle


Whessoe


Krohne

Hamworthy


Teikuko


Tyco/Anderson Greenwood


Press-Vac


Samson


Laborm


Sulzer - Burckhardt

Wärtsilä


Guinard


Fukui


Keystone


ENRAF


PR Electronics


Burckhardt Compression

Svanehøj


Shinko


AGCO


Flow Safe


Korval


Musasino


Wika
Download brochures from here